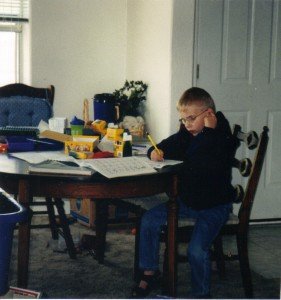 I think I might possibly have the ugliest school room ever, but I thought it would be fun to take a trip down memory lane, to see what our "school rooms" have looked like over the years.
My oldest officially started kindergarten at home in the fall of 2001, but I can't find a single picture of the little table where he did his school work. It only took a few minutes a day… I guess I never thought to take a picture!
In the summer of 2002, we moved to Arizona, where we lived for about 6 months in this bright and cheerful home. Here he is, doing his first-grade Explode the Code workbooks. This is the home where he learned to read for the first time! We did our school work at the dining-room table, but we also just used the couch and living room floor a lot. (Note the moving boxes in the background. We were probably packing up when this picture was taken.)
Our next home had a bright, yellow dining room, with a great view of the big Arizona sky — and this is where homeschooling felt more real to me. My preschool children started to participate in "together school" each day, and this is where we wrote our Bible curriculum. However — I can't find a picture. 🙂
I did find this picture of my two older boys looking at books together in the toy room. The reason the room was neat and tidy is because we really used the dining room more! 🙂
A few years later we moved to Iowa. We had a "finished" basement (that wasn't very finished), so I had the great idea of making an official school room down there, so that we wouldn't have to use the dining-room table any more. Here's a picture of our first day down there. At the time, I wrote:
Our schoolroom is in the basement, and the ceiling is very short here. It's only about one inch taller than I am, so I guess there will be no tip-toe teaching for me! 🙂 I've been working on making our room look cozier, and it looks so much better already. I've got all the flashcards (etc. and etc.) in baskets on the shelves (back right in the photo), and I've got room for all my teacher's books on the desk (back left). Ahhhh… Now to keep warm down here this winter!
The funny thing is, it wasn't very warm down there. And it was dark! Can you guess where we really did school each day? Yup, at the dining room table!
In 2009 we moved to Minnesota, and after the birth of our 7th child, I was very frustrated with the dining-room table method. I dreamed of having a school room like "civilized" people. My husband pastors a small church, which had an empty classroom upstairs, so we got permission to go there each day and do school. I couldn't wait to get the school clutter out of our house!
Well, I took a lot of pictures, so it must have meant I liked that room! I did…
I loved having all my supplies at my fingertips.
I loved having tables and chairs that my kids could fit into without their legs dangling.
I loved having wall space for charts and white boards.
I loved the bright windows.
However, we didn't stay too long (a month or two?). The weather got hot, and that 3rd-floor classroom (with no air conditioning) got hot. The walk to church got old, and my little baby and preschooler missed home.
One fine day, I woke up and said, "I have room in my basement. Why don't we just move all that school stuff home, and we'll have the best of both worlds?!"
My husband and kids were good sports.
The walls down there were cinder block, so my husband had to come up with a way to hang my white board (my favorite, school-room item). It was sweet of him to hang it right by that bright window! He moved the bookshelves home from church, and he put some rugs under the table to help keep us warm. We moved many of our games and toys to shelves by the table — and tada! School was home again!
My biggest complaint is that it's messy, and you might remember my complaining about feeling over-stimulated! However, as we've been using it for almost two years now, I have to say that it's grown on us. 🙂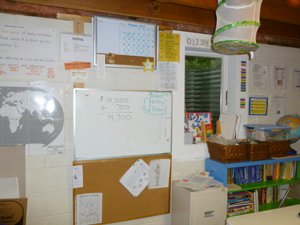 We started school again this last week, and this was the view by our window on Wednesday. It's cheerful and friendly — and yes, cluttered. (That net hanging from the ceiling will have butterfly larvae in it soon! How fun!)
Even the pets feel welcome!
So that's the story of how our school rooms have evolved over the last 10 years.
The moral of the story? We've learned that feeling organized helps Mom get through the day, and it helps me remember what to teach the kids. (They seem to like being organized, too.)
But you know what? We still love the dining room and the living room couch!